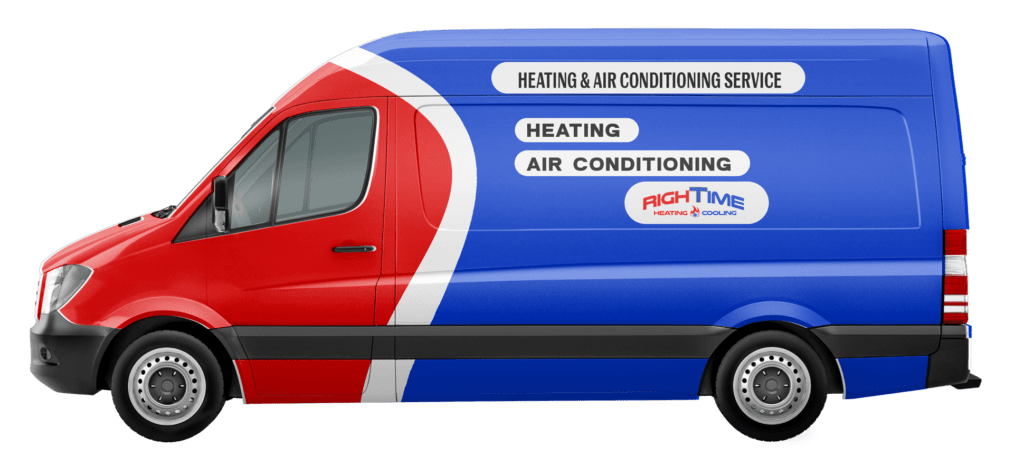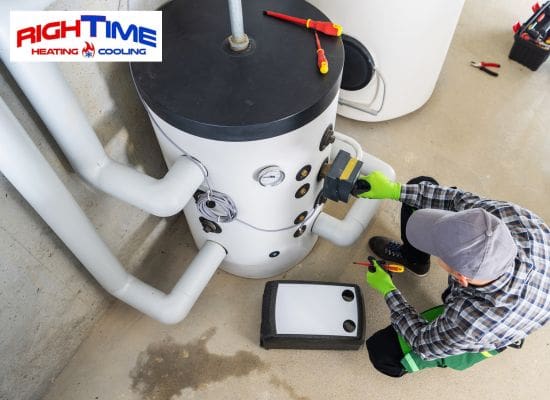 Restore Your Comfort With Our Heating Services
Rightime Heating & Cooling is your trusted partner in pursuing a comfortable lifestyle. We recognize the critical role a well-maintained heating system plays in ensuring the comfort and peace of your living space. Our unmatched dedication to excellence is the foundation of our heating services, which offer you the desired warmth during the harshest winters.
Rightime Heating & Cooling is a leading name in the heating industry, renowned for its dedication to delivering superior heating solutions. We are proud of our seasoned professionals, advanced technology, and customer satisfaction record. Through various comprehensive heating services, our mission is to transform your home into a sanctuary of warmth and comfort.
Our Services For a Well-Maintained Heating System
It is impossible to exaggerate the significance of a well-maintained heating system. In addition to regulating temperature, it protects your health during the frigid winter months. A functional heating system is the foundation of a comfortable living environment, and we are here to ensure that it continues operating optimally.
We take pride in providing a comprehensive array of heating services, each executed with a commitment to excellence. Our commitment extends to our work's efficacy and efficiency and our clients' convenience.
Expert Heating Services Offered
At Rightime Heating & Cooling, we provide extensive heating services designed to transform your home with warmth and comfort. Our services range from expert heating system installation, which includes a variety of furnace, boiler, and heat pump options, to precise troubleshooting and diagnostics during repairs, ensuring that your home is always comfortable, even in an emergency. Our dedication to excellence encompasses regular maintenance, preventative plans, and efficiency enhancements, guaranteeing increased energy efficiency and a longer equipment lifespan.
We specialize in energy-efficient systems, thermostat modifications, and zoning solutions for those seeking to reduce their energy expenses. With experienced and certified technicians, top-tier equipment and supplies, and an unmatched dedication to energy efficiency, we provide 24/7 emergency services, ensuring your comfort is our number one priority. Choose us and restore your comfort, degree by degree gradually.
Seamless Heating Installation
Our installation services for heating systems are the pinnacle of precision and skill. At Rightime Heating & Cooling, we integrate various types of heating systems, from conventional furnaces to energy-efficient heat pumps, in a seamless manner. Our seasoned technicians have an in-depth understanding of the complexities of each system, ensuring that your installation is flawless.
We guide you through the selection process, considering the specific needs of your space and your preferred heating options.
Whether it is the efficiency of a furnace, the time-tested dependability of a boiler, or the eco-friendly approach of a heat pump, we ensure that your chosen system is installed to perfection, providing a warm and comfortable home even during the harshest winters.
Furnaces are the central component of a heating system. We specialize in installing various furnaces, including forced-air, radiant, and geothermal models, to meet your unique requirements. Our technicians are skilled at guiding you through the selection process, ensuring you purchase the most appropriate furnace for your property.
Types of Furnaces We Install
At Rightime Heating & Cooling, we provide unrivaled furnace repair services. Our seasoned technicians comprehensively understand the various makes and models of furnaces. When your furnace malfunctions, our skilled technicians quickly diagnose the problem and use their troubleshooting expertise to determine the primary cause.
Whether it is a faulty pilot light, blower motor, or any other furnace ailment, we have the expertise to resolve it quickly. We are committed to restoring the optimal performance of your furnace.
Efficient Furnace Replacements
When repair is no longer an option, we provide furnace replacement services of the highest quality. We recognize the significance of choosing the correct furnace for your home. Our experts guide you through the selection process, taking your specific requirements and preferences into consideration. From conventional forced-air furnaces to energy-efficient, eco-friendly models, we offer extensive heating solutions to meet your needs.
Our precise installation guarantees that your new furnace integrates seamlessly with your existing heating system, ensuring comfort and peace of mind.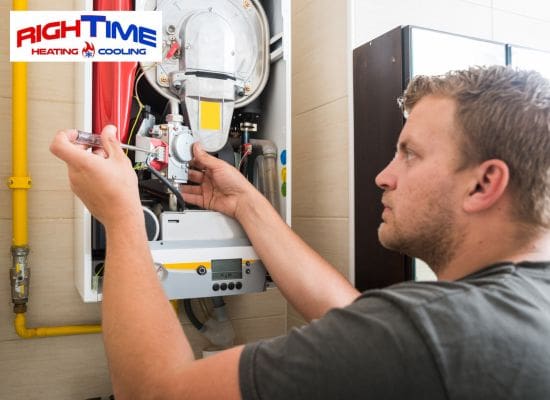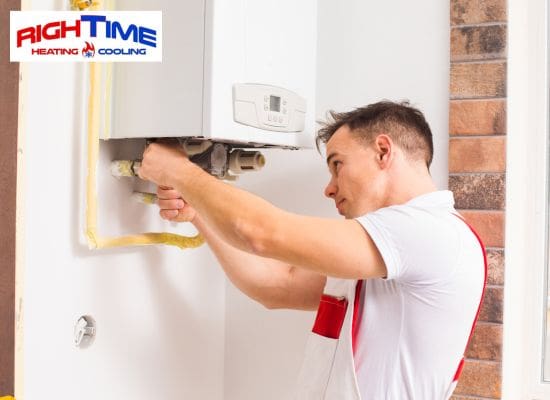 Boilers are the best method of heating that combines dependability and effectiveness. Our professionals are adept at installing various boilers, including combination and conventional boilers. We meticulously evaluate your needs and provide a solution for your heating preferences.
Our boiler repair services demonstrate our dedication to providing superior heating options. When your boiler malfunctions, it can disturb the quiet of your home. Our seasoned technicians, who are well-versed in the intricacies of various boiler types, diagnose and resolve problems quickly and accurately.
We believe in comprehensive boiler care; troubleshooting is the beginning of our process.
With a thorough understanding of boiler systems and access to high-quality replacement parts, we quickly replace broken and damaged parts, ensuring your boiler operates at its peak. We offer emergency services 24/7, recognizing that boiler problems can be critical, particularly during the cold winter. At Rightime Heating & Cooling, we prioritize your comfort and warmth, and our boiler repair services reflect this commitment.
Boiler Replacement Services
When it's time to replace your boiler, you can rely on our expertise to guide you through the replacement process. Our boiler replacement services guarantee that you have access to the most advanced and energy-efficient boiler systems on the market.
We specialize in various boiler types, including conventional and combination boilers, and offer customized heating solutions to meet your specific requirements. Upgrading to a high-efficiency boiler guarantees enhanced performance and reduces energy consumption and utility bills. Our boiler replacement services make your home warmer, more energy-efficient, and more cost-effective.
Heat pumps have emerged as an environment-friendly and energy-efficient option. We are an industry leader in installing air- and ground-source heat pumps. These technological systems efficiently extract heat from the surrounding environment.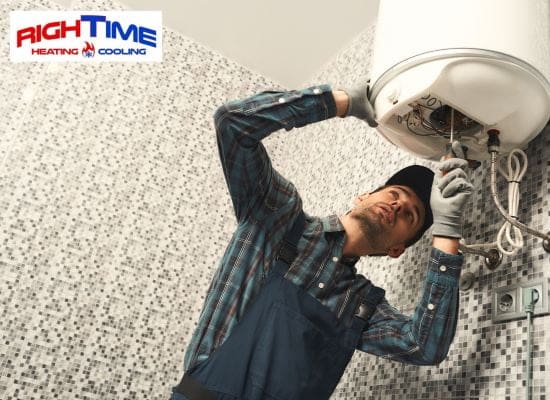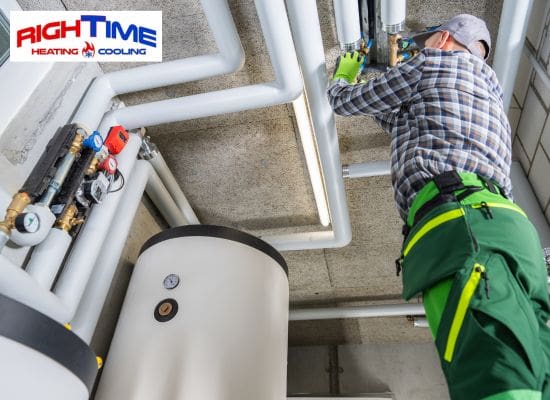 Troubleshooting and Diagnosis
Our seasoned technicians have extensive knowledge of heating systems. When a problem arises, we use our diagnostic expertise to pinpoint the source of the issue quickly and precisely. Identifying problems is the initial step in restoring the desired warmth.
24/7 Emergency Heating System Repair
A malfunctioning heating system can be an emergency during winter night. We provide emergency repair services around the clock to ensure your comfort is never compromised. Our experts are ready to take action at a moment's notice to combat the weather.
A single faulty component can affect the entire heating system. Rightime Heating & Cooling is equipped to replace malfunctioning components with precision and skill. Our objective is to restore the functionality of your system quickly and effectively.
Heating System Maintenance
Our routine maintenance ensures that your system operates optimally, reducing energy consumption and extending the life of your equipment. A well-maintained system also reduces the likelihood of unanticipated failures.
Preventative Maintenance Plans
Rightime Heating & Cooling provides customized preventive maintenance plans for your system and usage. These strategies are designed to prevent prospective problems from escalating, ensuring uninterrupted heat throughout the winter.
Our expertise extends to improving the heating system's efficacy. Through fine-tuning and technological advancements, we ensure that your heating system operates at peak efficiency, decreasing energy costs and enhancing comfort.
We are the leader in incorporating energy-efficient heating systems for energy conservation. Not only does upgrading to high-efficiency equipment reduce your carbon footprint, but it also results in substantial energy bill savings. It's a win-win situation for both your budget and the environment.
Smart and programmable thermostats offer precise control over your heating system. We specialize in installing and upgrading these advanced thermostats, allowing you to customize your comfort to your preferences and schedule.
Zoning systems enable you to divide your home into distinct heating zones, allowing you to control the temperature in each area precisely. Our specialists can implement zoning solutions, providing you with the highest personalized comfort.
Benefits of Our Heating Services
Improved Energy Efficiency
Our dedication to energy-efficient systems and maintenance reduces our ecological footprint and utility costs. A cost-effective heating system benefits both the environment and your wallet.
Enhanced Comfort and Temperature Control
Our variety of heating services results in precise climate control within your home. Regardless of how cold the weather is outside, you can now enjoy the warmth of a perfectly heated home.
Extended Equipment Lifespan
Regular maintenance and professional repairs extend the life of your heating system, protecting your investment.
With the improved energy efficiency of your heating system, your energy costs will decrease over time, helping you to save.
Why Choose Rightime Heating & Cooling
Rightime Heating & Cooling stands out as the highest standards in heating services. Our comprehensive heating solutions provide warmth and increased efficiency, convenience, and cost savings. Choose wisely and entrust us with your heating requirements. Contact us today, and we will restore your comfort by the degree.
Join Rightime Heating & Cooling immediately to receive the finest heating services. Your comfort is only a phone call away.