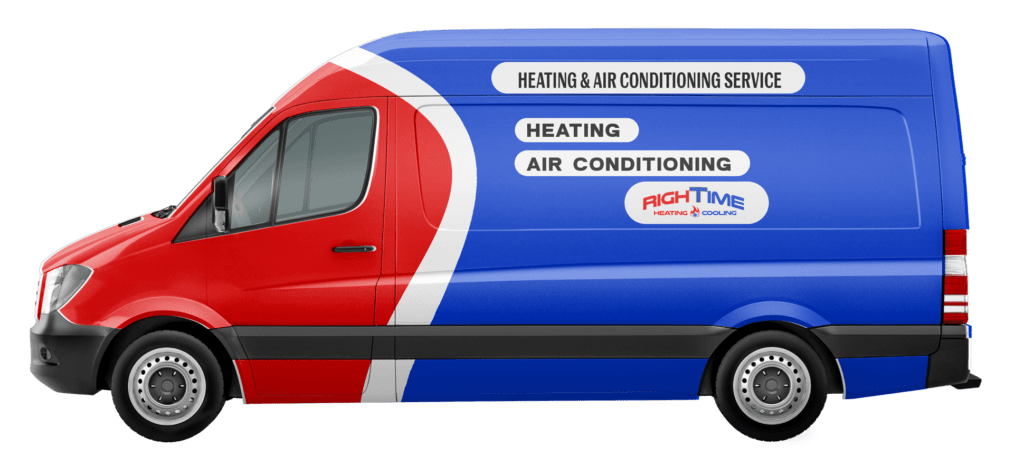 Any AC Installation Or Replacement
New Air Handler With AC Condenser Installation
New AC Condenser Installation
Roxbury Affordable Air Conditioning, Heating Repair and Plumbing Services
When it comes to ensuring the comfort and functionality of your property, Rightime Heating & Cooling is the leading heating company in Roxbury, Morris County, New Jersey. Our dedication to providing superior plumbing and heating services in Roxbury, Morris County, New Jersey knows no bounds. With a team of devoted professionals and over 10 years of industry experience, we are here to meet all your heating and plumbing requirements, ensuring your year-round peace of mind. Rightime Heating & Cooling is not merely a service provider; we are your partners in creating an unmatched level of comfort and safety in your home. We provide superior heating and plumbing services to the residents of Roxbury, Morris County, New Jersey
Trusted Plumbing and Heating Services in Roxbury, Morris County, New Jersey
Rightime Heating & Cooling is trusted for plumbing and heating services in Roxbury, Morris County, New Jersey. Our commitment to excellence and customer service has made us the go-to company for all heating and plumbing requirements. We provide various services to ensure the comfort and functionality of your home, ranging from heating system installations and repairs to comprehensive plumbing services.
Our skilled technicians have the most up-to-date equipment and technologies, are at your disposal around the clock, and are prepared to handle common issues, complex problems, and emergencies with precision and competence. With a strong emphasis on customer satisfaction and a proven track record of dependability, we are proud to be your reliable partner that you rely on for unparalleled comfort and peace of mind.
Efficient Heating Services in Roxbury, Morris County, New Jersey
Rightime Heating & Cooling offers a wide range of heating options to keep your home comfortable throughout the winter. Heating system installation is our specialty; we care to fit your area perfectly. We carefully install radiant heating systems, geothermal heat pumps, ductless mini-splits, classic furnaces, and heat pumps.
Our heating system repair services also quickly address common issues and emergencies, including boiler, furnace, and hot water heater repair, replacement, and installation. We maintain your heating system for warmth and comfort with efficiency and perfection.
Heating System Installation
Our heating system installation in Roxbury, Morris County, New Jersey epitomizes accuracy and skill. A reliable heating system is essential to a home's convenience, particularly during the colder months. Our skilled technicians, with the most up-to-date instruments and techniques, evaluate the heating requirements of your property and recommend the most suitable system. Whether you have a furnace, boiler, or another heating system, we have you covered.
Types of Heating Systems Installed
Rightime Heating & Cooling installs various heating systems. We meet all your heating demands, from conventional furnaces to advanced heat pumps. We excel in installing radiant heating systems, geothermal heat pumps, and ductless mini-splits, allowing you to select the system that meets your needs. Our installation process is distinguished by its professionalism and attention to detail. We do not simply implement systems; we customize them to your space to ensure maximum efficiency and durability. Our technicians meticulously install, calibrate, and test the system to ensure optimal performance and energy efficiency by industry standards.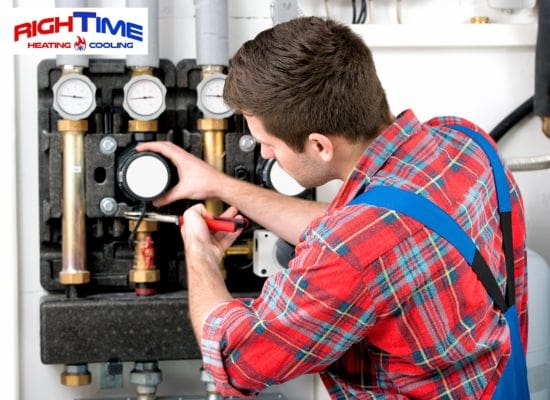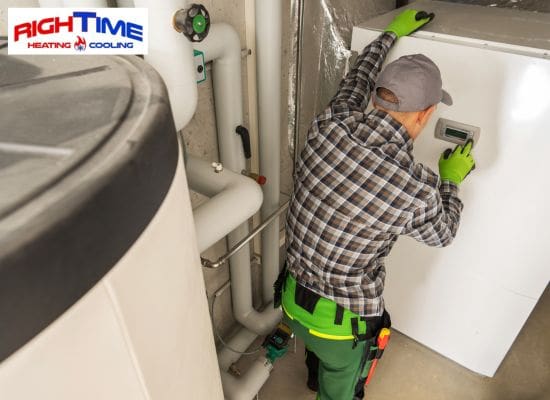 Quick Heating System Repair
Heating systems are susceptible to various problems. We have encountered and resolved various heating system issues, from insufficient heating to unusual sounds. Our technicians are well-versed in addressing problems with malfunctioning thermostats, obstructed filters, and even pilot light issues. We have the knowledge and expertise to resolve any heating system problem.
24/7 Emergency Heating Repair Services
Rightime Heating & Cooling knows that heating issues can arise at inconvenient times. We offer emergency repair services around the clock. Whether your heating system requires a boiler repair, boiler replacement, boiler installation, furnace repair, furnace installation, furnace replacement, water heater repair, water heater installation, or replacement, our team is always prepared to offer prompt and practical solutions.
Boiler Installation Services in Roxbury, Morris County, New Jersey
Our boiler services are designed to ensure your boiler system's efficient and secure operation in Roxbury, Morris County, New Jersey. Boilers are crucial in providing warmth and hot water to your residence, and our skilled technicians are available to maintain their optimal condition.
The proper installation of a new furnace is crucial to its longevity. At Rightime Heating & Cooling, we are experts at installing various boilers, including conventional gas and oil boilers and contemporary, energy-efficient condensing boilers.
Our installation process is characterized by precision and professionalism, ensuring that your new boiler provides consistent and efficient heating while adhering to all safety and regulatory requirements.
Expert Boiler Repair in Roxbury, Morris County, New Jersey
We recognize that boiler issues can disrupt daily life, particularly during winter. These problems, such as unusual noises, uneven heating, and pressure fluctuations, can be resolved expeditiously by our qualified professionals. Our emergency repair services are available 24/7 to manage any boiler-related emergency. We take great pride in our ability to quickly diagnose and resolve issues, ensuring that your boiler continues to operate effectively.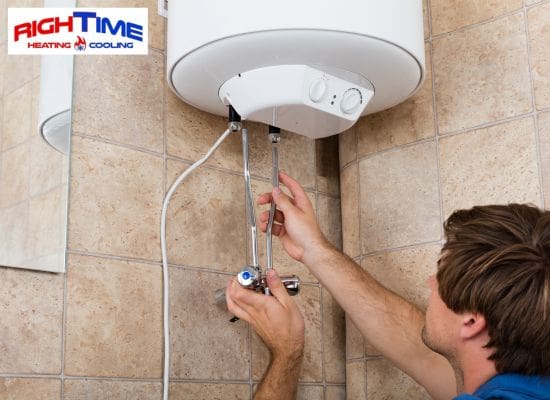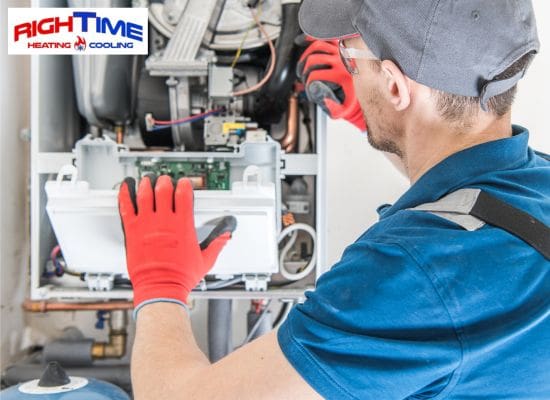 Furnace Installation Services in Roxbury, Morris County, New Jersey
At Rightime Heating & Cooling, our furnace services provide the comfort and warmth of your home. Whether you need furnace installation, repair, or replacement, we have you covered.
When it's time to install a new furnace, our specialists take a meticulous approach. We consider your home's unique requirements and recommend a furnace that meets them precisely. It ensures consistent warmth and energy efficiency, contributing to long-term cost savings.
Our technicians are well-versed in addressing various furnace problems. Thermostat malfunctions, clogged filters, and unusual sounds are just a few examples of common issues that we can quickly diagnose and resolve. Our objective is not only to repair the problem but also to ensure the continued efficacy of your furnace.
Hot Water Heater Installation in Roxbury, Morris County, New Jersey
Whether you require a water heater installation, repair, or replacement, we have you covered. We bring much experience and knowledge regarding installing a new water heater. We recognize that an efficient water heater is essential for daily comfort, and we are proud to provide a streamlined installation process.
Whether you need a tankless water heater, a traditional tank water heater, or a hybrid water heater, our skilled technicians evaluate your needs and recommend the ideal system. We manage the installation meticulously, ensuring it complies with safety standards and efficiently meets your hot water needs. Our emphasis on precision and quality ensures that your new water heater provides dependable, consistent hot water whenever required.
Water Heater Repair Services
Even the most durable water heaters may experience problems over time. Our expert team is well-versed in diagnosing and resolving various water heater issues. We ensure your water heater operates optimally by addressing simple and complex problems.
Whether it is a fluctuating temperature, insufficient hot water, or another issue, we have the skills and equipment to provide quick and effective repairs. We provide emergency repair services 24/7, so you are always supplied with hot water.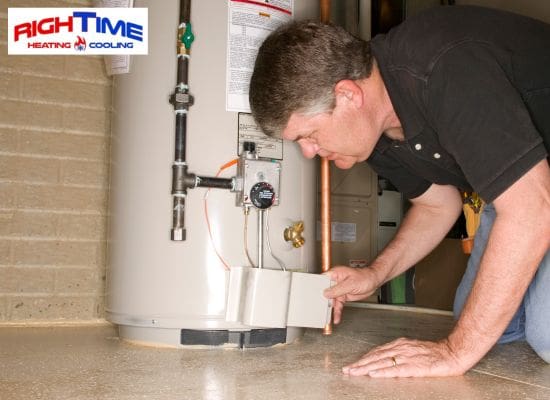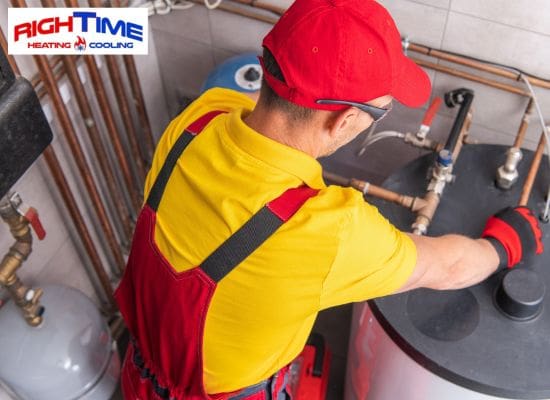 When your water heater reaches the end of its useful life or becomes too expensive to repair, we provide replacement services that are both efficient and affordable. We assist you in choosing a new water heater that meets your requirements and budget.
Our replacement procedure is comprehensive, involving the removal of the old device and seamlessly installing the new one. We emphasize energy-efficient models to help you save money on energy costs while ensuring that your new water heater consistently provides your household with hot water.
Reliable Plumbing Services in Roxbury, Morris County, New Jersey
Leaky faucets, burst pipes, and clogged toilets are common plumbing issues interrupting your daily routine. Our plumbing repair services cover an extensive array of issues. We specialize in repairing pipe leakage, repairing malfunctioning fixtures, and handling plumbing emergencies. Regardless of the issue, we have the skills to restore your plumbing system to full functionality.
Leak Detection and Repair
Leaks that go undetected can result in significant water loss and costly property damage. Our technicians are equipped with advanced leak detection equipment that allows us to pinpoint the exact location of leakage, ensuring minimal property damage during the repair process.
Frozen Pipe Repair and Replacement
Pipes can corrode, develop fractures, and become clogged with debris over time. Our pipe replacement and repair services are tailored to address these concerns efficiently. Whether repairing a minor leak or replacing an entire section of piping, our team is equipped to manage it with precision and expertise. We are experts in the intricate process of frozen pipe repair, which is required in harsher climates.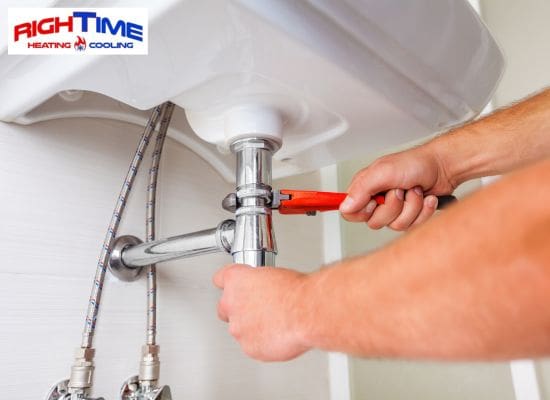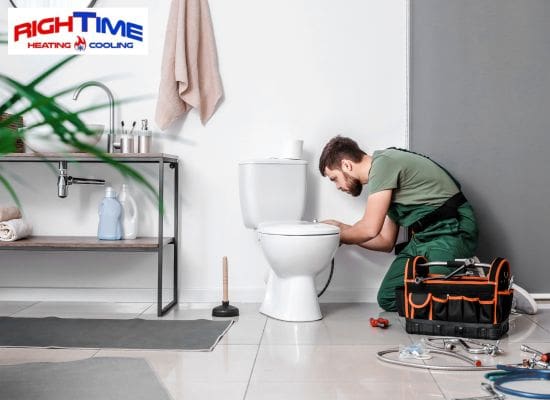 Seamless Plumbing Installation in Roxbury, Morris County, New Jersey
If you're building a new home or renovating an existing one, our plumbing installation services are your solution for a reliable and efficient plumbing system. We'll work closely with you to design and install a plumbing system that meets your needs and integrates seamlessly with your property's layout.
Whether you want to upgrade your bathroom or kitchen with contemporary fixtures or need to install new fixtures elsewhere in your home, we have you covered. Our installation services for fixtures ensure precision and quality, ensuring your new fixtures appear great and function flawlessly.
Our drain cleansing services at Rightime Heating & Cooling are designed to keep your plumbing system operating efficiently. Clogged toilets are a common household annoyance that disrupts daily activities and causes frustration. Our team of specialists utilizes the best methods, such as high-pressure hydro-jetting, to promptly and efficiently clear stubborn clogs and obstructions.
We recognize that prevention is frequently the most effective course of action, and we offer preventative drain maintenance to ensure that your plumbing system remains problem-free. With an unwavering commitment to accuracy and professionalism, our drain cleaning services assure a plumbing system that flows freely, allowing you to appreciate the convenience and functionality of your home without interruption.
Clogged sewers are a common household annoyance that can interfere with daily activities. Rightime Heating & Cooling provides efficient solutions to this problem. Our technicians use the latest equipment and methods, such as hydro-jetting, to clear obstinate clogs and obstructions from your drains, ensuring they flow freely.
Hydro-jetting is a high-pressure water jetting technique that removes even the most stubborn blockage and obstructions from your plumbing system. This innovative method eliminates debris, mineral buildup, and grease to restore the total capacity of your pipelines.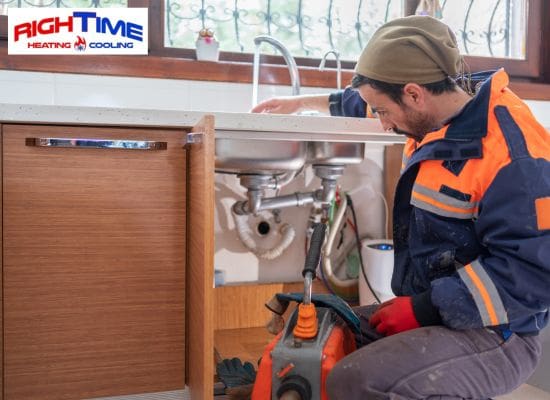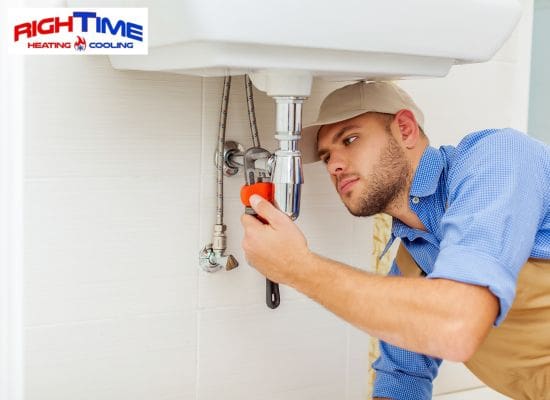 Residential Plumbing Services
Rightime Heating & Cooling takes pleasure in providing complete residential plumbing services that meet all your plumbing demands. Our plumbing services are designed to keep your bathroom, kitchen, and home's plumbing systems running smoothly.
From fixing leaking faucets and blocked drains to installing new plumbing systems and fixtures, we can help. Our expert crew knows how important a well-maintained plumbing system is and provides skilled and efficient services to improve your home's performance and comfort. We are your trusted partner in meeting your domestic plumbing needs with precision and care, allowing you to enjoy the ease and reliability of a properly operating plumbing system.
Rightime Heating & Cooling's bathroom plumbing services provide comprehensive solutions to keep your bathroom functional and comfortable. From minor annoyances to major overhauls, our skilled technicians bring professionalism and expertise to every endeavor. Here are several features of our bathroom plumbing services: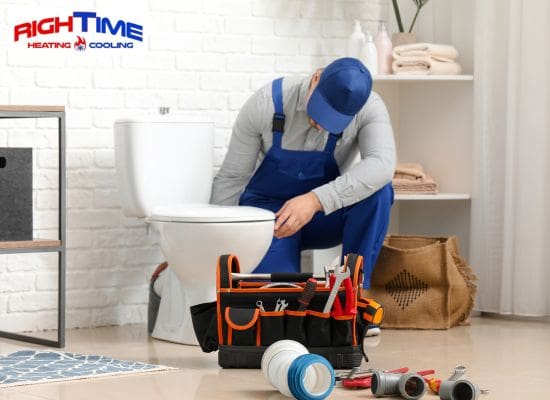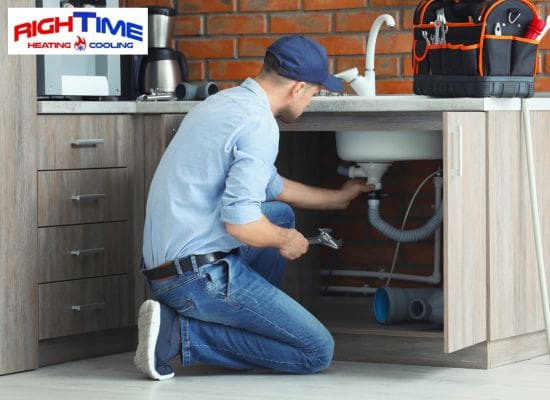 In the center of your home, the kitchen, Rightime Heating & Cooling offers various functional and aesthetically pleasing plumbing services. Our skilled technicians are equipped to manage multiple tasks, ensuring that your kitchen continues to be a center of culinary excellence.
Top Air Conditioning Company in Roxbury, Morris County, New Jersey
The significance of air conditioning cannot be ignored for an excellent lifestyle. We fulfill your need for a dependable and efficient air conditioning system. Whether you seek AC repair, installation, or comprehensive central air conditioning service in Roxbury, Morris County, New Jersey, we have you covered. We offer various services to ensure your home remains calm even during hot weather.
Quick Air Conditioning Repair in Roxbury, Morris County, New Jersey
The intolerable heat transforms your house into an oven. It is where the expertise of our AC repair in Roxbury, Morris County, New Jersey comes into action. Our skilled technicians assess and diagnose the issue with precision. We navigate the complex network of components, ensuring that every aspect of your air conditioning unit is in optimal condition. Whether it's a faulty compressor, a refrigerant leak, or an electrical issue, our professionals restore the fresh breeze to your living space.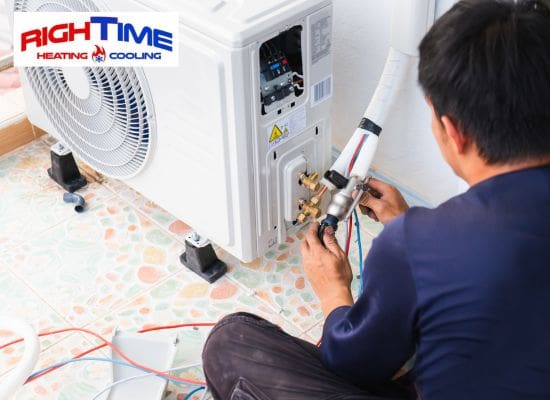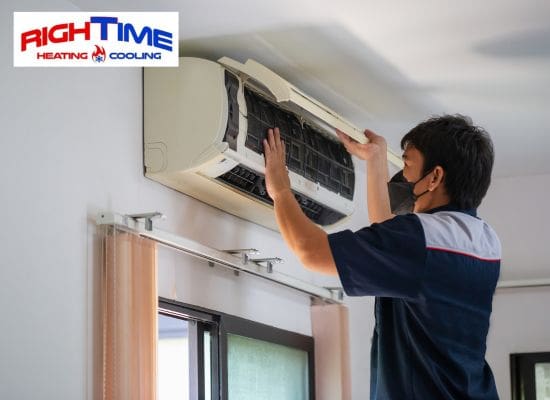 Best AC Installation in Roxbury, Morris County, New Jersey
When it is time to implement a new air conditioning system, the importance of a flawless installation cannot be overstated. AC installation in Roxbury, Morris County, New Jersey is a meticulous process carried out with the utmost care. Our process begins with comprehensively evaluating your home's layout and ventilation needs.
We take room dimensions, insulation, and energy efficiency into account to create a customized cooling solution that maximizes comfort and minimizes energy consumption. Our installation process is complex due to electrical connections, refrigerant management, and equipment positioning. With our services, you get a fully incorporated AC system tailored to your specific requirements.
Central Air Conditioning Repair in Roxbury, Morris County, New Jersey
Central air conditioning systems are the beating heart of many residences. They provide extensive conditioning, with ducts distributing cooled air throughout the home. When a significant air conditioning system malfunctions, the comfort of the entire residence is at risk. Our expertise in central AC repair in Roxbury, Morris County, New Jersey is essential for a proper functioning system.
We dive deep into the core of your central AC system, carefully troubleshooting problems within the condenser, evaporator, or ductwork. We aim to restore harmony to your indoor environment by ensuring each room has the same refreshing climate.
Central Air Conditioning Replacement in Roxbury, Morris County, New Jersey
Central AC replacement in Roxbury, Morris County, New Jersey requires a comprehensive evaluation of your current system's performance and compatibility with energy-efficient modern units. We determine the capacity requirements and optimal size for your new central air conditioning system. The installation of the most advanced central air conditioning technology promises not only a significant decrease in energy costs but also a substantial improvement in home comfort.
Regular maintenance is required to keep your central air conditioning system running smoothly. A central AC service in Roxbury, Morris County, New Jersey entails a comprehensive examination of your system, from filter replacement to duct cleansing. Our services extend the life of your central AC, ensuring that it delivers chilly, crisp air throughout your home.
Why Choose Rightime Heating & Cooling?
Selecting us provides more than just heating and sewage services. It involves investing in a partner concerned with your property's long-term safety and comfort. There are a multitude of reasons why you should choose us:
Rightime Heating & Cooling remains a constant pillar of excellence in the ever-changing landscape of domestic comfort. We have meticulously described our heating and plumbing services to demonstrate the extent of our expertise and commitment to your comfort and well-being. From installation of a heating system to plumbing restorations and maintenance, we are prepared to meet your needs with precision and competence.
Make sure to include the functionality and comfort of your property. Contact Rightime Heating & Cooling today for heating and plumbing services to transform your house into a warm and welcoming home. Your convenience is our top priority, and we are just a call away!