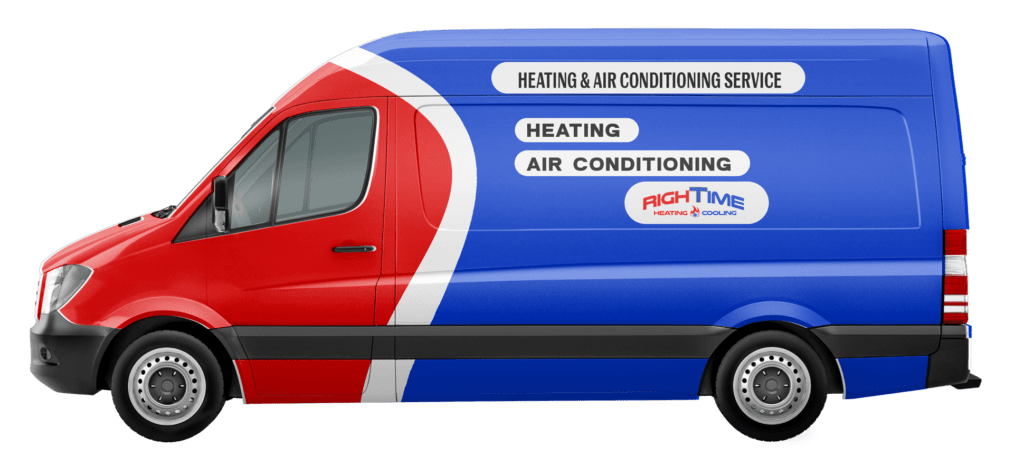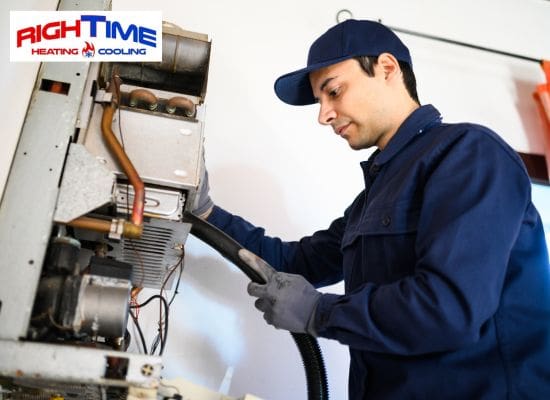 Efficient Water Heater Services by Rightime Heating & Cooling
Rightime Heating & Cooling has established its reputation in home comfort and utility. With over 10 years of devoted service under our grasp, we specialize in providing homeowners with superior solutions, ensuring their comfort and tranquility. Our primary focus is on the critical aspect of water heaters and how they contribute significantly to the well-being of households.
Water heaters are frequently neglected in the intricate workings of a home, but they play a crucial role in our daily lives. These heaters provide the necessary warmth and comfort for a revitalizing shower, hygienic dishwashing, and much more. When these unsung champions fail, their significance becomes glaringly apparent. It is essential to comprehend the significance of water heater maintenance and repair. These vital systems are necessary to avoid frigid showers, efficient energy consumption, and costly repairs in the future.
Benefits of Our Water Heater Services
At Rightime Heating & Cooling, we recognize the fundamental value of energy-efficient water heating systems. We provide extensive maintenance, repair, and upgrade services for water heaters. By ensuring that your water heating systems are in excellent condition, we contribute to lower energy expenses, a longer lifespan for your appliances, and an overall improvement in your quality of life. Our expertise resides in installing water heaters and the art of timely repairs necessary to avoid costly replacements.
Quick Water Heater Installation
Installing a water heater is a meticulous process that requires technical expertise and an in-depth understanding of the most recent heating technologies. Our team at Rightime Heating & Cooling is endowed with the knowledge necessary to ensure that the installation of your new water heater goes smoothly. We meticulously evaluate your home's layout and hot water requirements, recommending the most suitable system for your specific needs.
Importance of Professional Water Heater Installation
A water heater that has been professionally installed not only operates more efficiently but also protects your family and home. It is crucial to avoid gas leakage, electrical problems, and water damage, and a certified technician can expertly mitigate these risks.
Types of Water Heaters We Install
Rightime Heating & Cooling recognizes that every home has its unique requirements. We offer a variety of water heaters, including highly efficient tankless models and conventional tank-based systems. Our technicians guide you through the selection process, assisting you in selecting the ideal product for your residence and budget.
The decision to upgrade to a new water heater yields remarkable benefits for homeowners. Not only are modern systems more energy-efficient, which results in reduced utility bills, but they are also environmentally friendly. Energy efficiency contributes to a reduced carbon footprint. New water heaters typically have extended warranties, providing peace of mind and financial savings.
Trusted Water Heater Repair
Unexpected and inconvenient water heater problems can occur at the worst moments. Our technicians are skilled at diagnosing and resolving various issues, from simple glitches to complex malfunctions. We aim to restore your hot water supply quickly and effectively using the latest equipment and extensive knowledge.
Common Signs That Indicate a Water Heater Replacement or Repair
It is essential to recognize the symptoms of a malfunctioning water heater. Variable water temperatures, discolored water, and peculiar noises emanating from the unit are typical warning signs. A quick response to such signals can save you from the inconvenient inconvenience of a complete malfunction and the potential expense of expensive repairs.
24/7 Emergency Water Heater Repair
Rightime Heating & Cooling provides emergency repair services around the clock. We are just a phone call away, prepared to offer prompt solutions in a water heater emergency. Our team is committed to restoring your hot water supply expeditiously and effectively.
Quality Tankless Hot Water Heaters
In the constantly evolving field of water heating technology, tankless water heaters have emerged as an innovative and energy-efficient solution. At Rightime Heating & Cooling, we understand the significance of offering comprehensive tankless water heater services to satisfy the changing needs of homeowners.
Advantages of Tankless Water Heaters: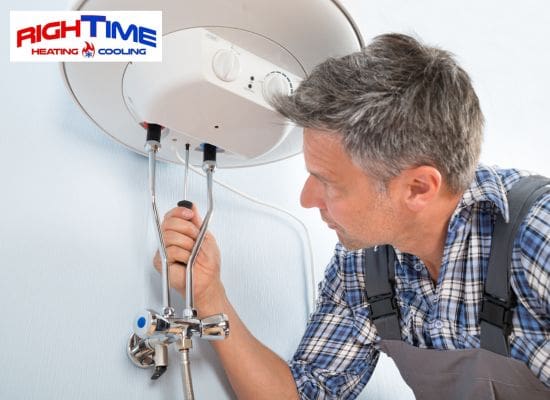 Efficient Tankless Hot Water Heater Services
At Rightime Heating & Cooling, we offer services designed to meet the unique requirements of tankless water heater owners and those considering transitioning to this energy-efficient technology. Our skilled technicians are proficient in installing, maintaining, and repairing tankless water heaters. Here is a thorough examination of the services we offer:
Tankless Water Heater Installation
Installation of a tankless water heater correctly is crucial to its efficacy and longevity. Our certified technicians evaluate your hot water needs, considering variables such as the number of appliances and fixtures that require hot water in your residence. We ensure your new tankless water heating system is appropriately sized and installed. It provides a smooth and effective operation and reduces the likelihood of future problems.
Routine Maintenance and Servicing
Maintaining a tankless water heater is necessary for its optimal operation. Mineral deposits can accumulate within the device over time, reducing its performance. Our maintenance services include descaling and cleansing to avoid these complications. Regular maintenance extends the life of your tankless water heater and ensures that you continue to enjoy its energy efficiency and limitless supply of hot water.
Tankless Water Heater Repairs
Our technicians can provide prompt and efficient tankless water heater repair services if a malfunction or failure occurs. We are capable of diagnosing and resolving a vast array of problems, from ignition issues to water temperature fluctuations. We aim to minimize disruption and guarantee that you always have access to hot water.
Why Choose Rightime Heating & Cooling
Our technicians constitute the core of our service. We manage all water heater installation, repair, and maintenance due to our extensive training, certifications, and field experience. Our commitment and professionalism guarantee that your water heating systems receive the utmost care and attention.
At Rightime Heating & Cooling, we place a premium on client satisfaction. We go above and beyond to guarantee that every interaction with our services is positive. From the time you contact us for a consultation until the completion of a project, our success is measured by your satisfaction.
We believe in transparency about our services and pricing, so additional fees will always be familiar to you. When you select Rightime Heating & Cooling, you can rest assured that you will receive a comprehensive breakdown of the provided services and associated costs.
Water heaters are a critical thread in the grand tapestry of domestic comfort. We provide heated baths, clean dishes, and much more without being noticed. These systems can be neglected to cause discomfort and financial burdens. With its extensive selection of services, Rightime Heating & Cooling provides the necessary solutions to ensure your water heaters operate without a hitch.
Rightime Heating & Cooling should be contacted if you are experiencing problems with your water heater, are considering an upgrade, or want to ensure your system is properly maintained. Our team of experts is available 24/7 to ensure that your home's water heating requirements are met efficiently and professionally.
Don't let water heater issues interfere with your daily life; contact us today for first-rate solutions and peace of mind.